Hello everyone! This week I chose to redesign a local eatery's website, Vagabond Kitchen & Tap House in Atlantic City, NJ.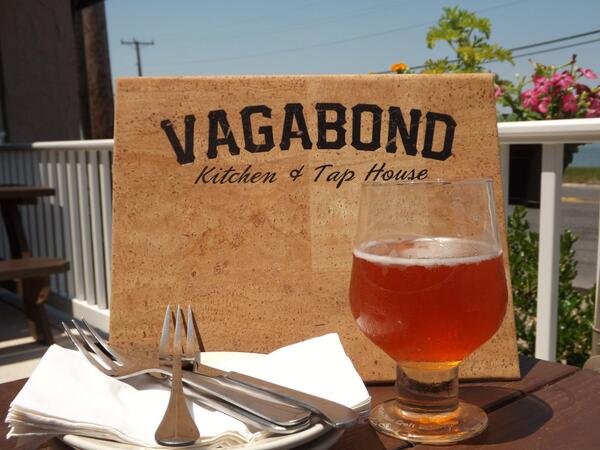 I have been eating at Vagabond (or as almost everyone calls it: "Vagabond's") since the location was rebuilt after Hurricane Sandy hit the shore back in 2012. Besides their extensive craft beer list (although a huge selling point), Vagabond's retake on classic bar food is what makes me come back for more. They have something for everyone: classic food like a burger or nachos, but also foods with a little sophistication, such as seared ahi tuna. I'm not exaggerating when I say I've had at least ten different meals there and they're all delicious and inexpensive. My personal favorite, the Turkey Apple Brie sandwich served on walnut-raisin bread and pepper jam. Mmm.
They present most of their meals on a butcher block, and their menus are not the classic laminated 8.5×11 paper, they again smaller, more sophisticated menus in a cork binding (see first picture, above). They pay attention to detail, which sets them apart from you're typical restaurant or bar. If you go on a Friday or Saturday night, there's usually a band playing and the atmosphere is just very relaxed and fun.
Overall, it's one of my favorite places to eat and hang out with friends in the summer, especially when I don't feel like paying big bucks in the casinos of Atlantic City. 🙂 And get this, this past Monday (10/12/2015) Diners, Drive-Ins, and Dives announced that Guy Fieri was coming to Atlantic City to do a show that included  Vagabond's, airing February 2016!
Now that you are more familiar with Vagabond's Kitchen & Tap House, I can tell you more about my assignment. You might be wondering, "How do you even begin designing a website?" Never fear, I was wondering the same thing until this past week. I learned that most designers use a process called wireframing, which acts as a blueprint for websites. The wireframe lacks all the bells and whistles of fonts, images, and color; it focuses instead on functionality and user experience. Wireframing also helps you build a hierarchy of information so that what is most important to a user is easy to find. Let's face it, a website can look like a work of art, but if you can't navigate the site quickly and find what you're looking for in seconds, it's pretty much worthless.
Like any other project, I started cruising around the Internet to give myself inspiration. What I found interesting, if a little strange, is that most restaurants follow the same exact style of website. I looked up major chains such as Panera Bread, Red Robin, Chili's, Starbucks, and Carrabba's–every single one looked like they had the same designer who simply swapped colors/logos/images around.
Getting back on topic, I needed to have various criteria included on the homepage of the website. This included:
Logo
Navigation bar
Social media icons
Rotating slideshow images
Upcoming Events/Specials
Three feature areas (pictures or copy)
Contact Us area
Another feature of my choice
Color swatches
Our image had a required size of 1280 x 972 pixels, or about 18 x 13.5 inches. The first thing I did was set up guidelines two inches in on both sides and create a big container rectangle on my image. Vagabond's current website does a similar practice, and they have a background image outside that container box. I also set up guidelines at 9 inches (width) and ~6.75 inches (height), the halfway points of my document.
Something that I learned in lecture was that researchers find that most users
a) scan the page quickly for information they want, and
b) look at websites in an "F"-shaped pattern.
So, it makes the most sense for your most important information in the uppermost left corner of the website.  I began to add my navigation and logo image on the top left corner, because it would be instantly recognizable when logging onto the web page, and then proceeded to the "rotating images" box. From there I added the various other criteria. I wish I could describe exactly what I did in a more interesting way, but I simply created many rectangles and free transformed them until I had some semblance of a layout I was pleased with. Oh, and I added about twenty guidelines to help me align the boxes/text/images/random-things-you-have-probably-never-even-thought-about! Phew!! After the boxes were all aligned, I brainstormed on the specific information I wanted to include in the layout, and ordered the headlines from most to least important. This last step helped me decide what should be on the left side, because as I mentioned, it should house the most important information. I decided to add the "rotating images" right below the logo because Vagabond's should be advertising their food first and foremost. Next I added an events section, a beers on tap section (they are a tap house, after all), and a section about delivery all the way to the right. I found the social media icons for free at iconfinder.com, which I highly recommend and will bookmark for future use.
I put a small "social media feed" containing their activity on different social platforms directly below the icons because they flow well together.
Something of invaluable importance was my use of the layers panel and folders. For a project like this where it felt like I had insurmountable layers, being organized and keeping everything flowing helped keep my sanity. To the right you can see what my layers panel looked like after some time. If it seems overwhelming here, you should have seen it before I began to organize it! 🙂
Finally, all that was left was possible color swatches. Vagabond's logo is white text on a black background, so the possibilities are endless. Recalling the blocks of wood they serve their food on, I thought that wood colors could work, as well as the green of the paint inside the tap house itself. I went with hexcodes #330000 (not quite black), #ffffff (white), #7d3300 (brown), and #b9bf8e (green). My idea was that the nav bar and footer would be the brown wood color, with the container box containing the green. I would have the individual content boxes containing white with the off-black text. I would also consider changing the opacity on the white container boxes just slightly, but that's something I would need to see first-hand.
Below is a final image of my wireframe for Vagabond Kitchen & Tap House.
I would like to think it's an improvement of their current website. 🙂 Thanks for stopping by!
NOTE: This is strictly for educational purposes, I am in no way affiliated with Vagabond. Just a local patron who has been enjoying their food/beer for years.